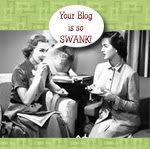 Read more:
http://splinteredlife.blogspot.com/#ixzz0PSV1YKBl
I have to pass on the award. Which of course would be easy cause I know only SWANKy blogs. I stalk only SWANKy blogs. I guess I can pass the award on to as many bloggers I want.
And the awards are going, in alphabetical order, to:
Get if off your chest
Donald Swarbrick
Your blog is SWANK because you are so passionate about getting justice for victims of crime.